All aboard the barge, for a night of experimental sounds hosted by Extra Terrestrial Promotions & Velvet Echoes.
Let the immersive drones of smote carry you to the astral plains, the unpredictable noise of visceral Backrooms tantalise your psyche & the cosmic tones of Orcon carry you to sonical bliss.
We wait on the water…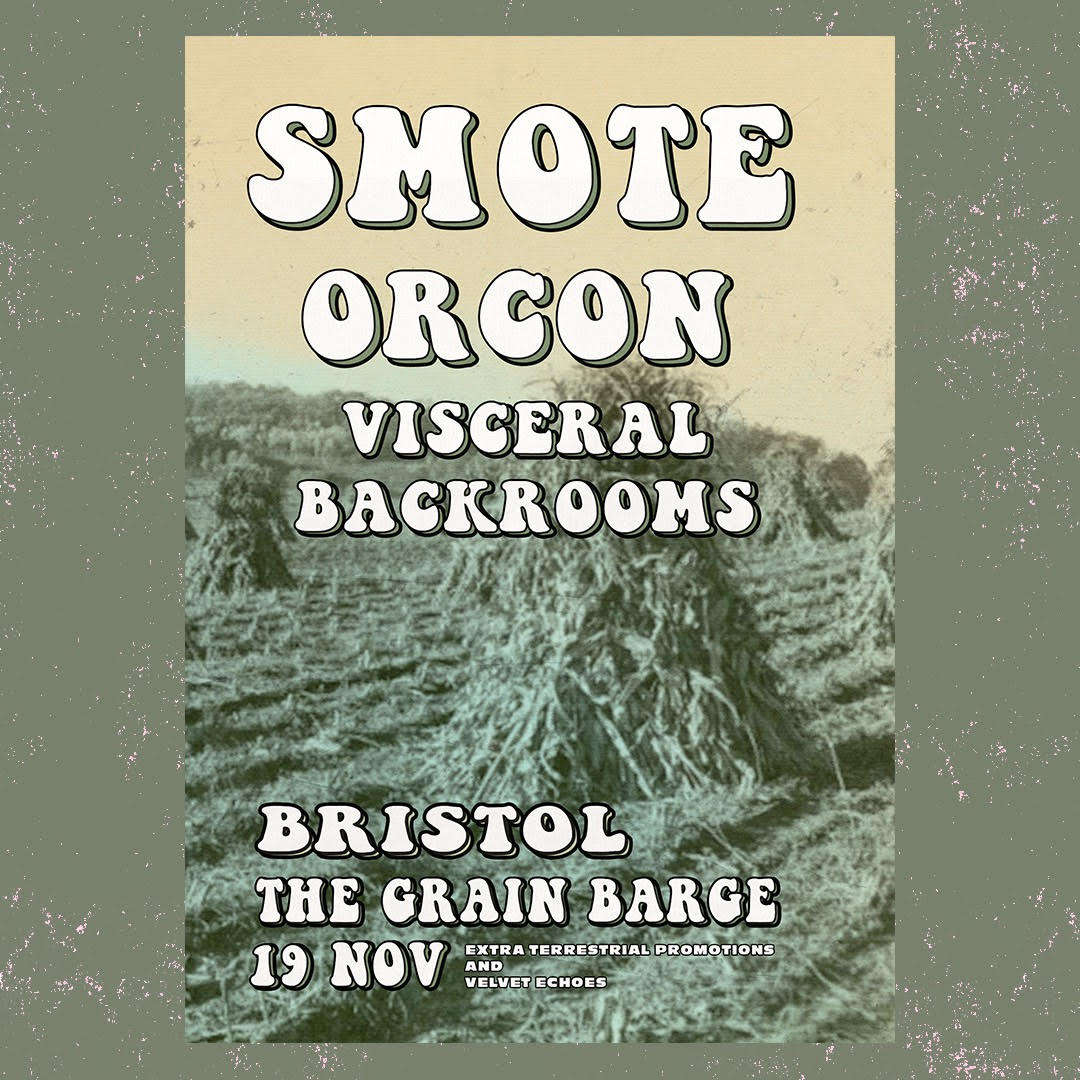 Smote.
Transcendence through repetition beamed via an aesthetic vision steeped in mystery: welcome to the world of Newcastle-Upon-Tyne's Smote, an entity opening up uncanny new psychic pathways. 'Genog' – the outfit's second release on Rocket Recordings following 2021's eerie transmission 'Drommon', shows that Smote's elliptical casting of bleak magick is only growing more powerful as it gathers momentum. The five vivid extrapolations on Genog conjure differing spiritual realms, yet the verdant flute-and-drum-driven 'Fenhop', the resonant, cryptic 'Hlaf' and the overwhelming noise-driven intensity of the closing freakout 'Banhus' combine and coalesce to offer one unified vision, building furious momentum in a manner that unites the pastoral with the arcane and otherworldy.
Inhabiting a landscape where pursuit of the psychedelic is so often hampered by cliche, mannerism and the canonical rulebook, it can be rare to witness a visionary doggedly pursuing their own crooked and idiosyncratic path into the mystic with few co-ordinates apparent. This is where Smote come in. Earthy, ritualistic and richly cinematic.
"Evocative sound worlds of mystery &
imagination where influences both
ancient & modern create a mesmeric &
trancelike listen."
(Terrascope)
"A mystically-aligned voyage into abandon
& epiphany."
(Psychedelic Baby Mag)
"Wow this album is quite a trip."
(Fragmented Flaneur)
"A deliriously absorbing psych odyssey
with an immense totemic potency."
(Backseat Mafia)
Orcon.
Formed in 2019, Orcon (short for Organic Control) consists of Stef, drums/vocals/effects; Rich, guitar/vocals; Trev, guitar and Callum, Bass.
They seamlessly blend their influences of classic doom, space rock and punk with dreamlike lyrics that look towards the cosmos and through a looking glass to darker dimensions.
Stef hollars, croons and screams, imagining himself as Jim Morrison cast adrift in space whilst Rich acts as his Earth-bound foil.
For fans of Black Sabbath, Pigsx7, Hawkwind
Visceral Backrooms.
A Bristol vapourwave/cowpunk outfit reuniting after 33 years for their 2nd Bristol debut.